The future is so…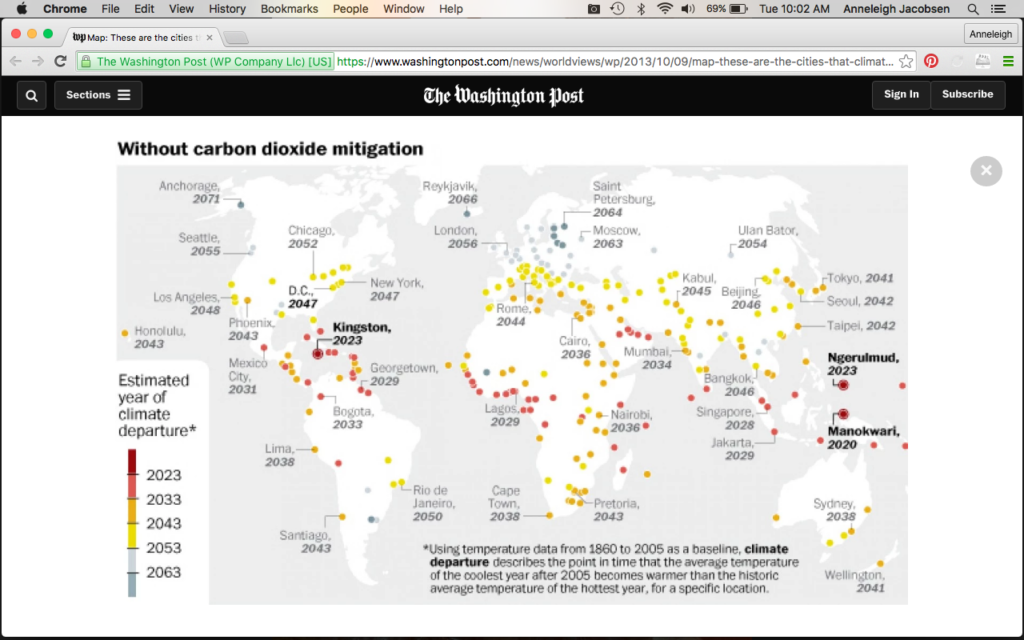 This past weekend a beautiful friend of mine lost her mother to cancer. She was performing on a famous stage in London at the time, and the Saturday morning papers brought showers of praise to both the show and to her wonderful words, but back here in SA her mom was dying. And even though cancer allows you some measure of preparation, it was unexpected, and the shock will still set in after the logistics have been done. It was not the weekend she had planned. She had no way of knowing that either of those significant moments would happen just so, despite being prepared for both.
Over the same weekend, I read an article posted by the lovely planet-saving mother of the barefoot man about the "climate departure" predictions for the world. Essentially these are indicators that point to the date on which the climate in each place will have actually changed, shifted. A point at which we in Cape Town, for example, will no longer be able to say "It's so warm for May!" because a warm May and a stinking hot January will be the new norm.
There were many fascinating and scary consequences discussed in this article, but my response was a little more prosaic: I worked out how old I will be in 2038 – the predicted climate departure date for Cape Town. And the answer is 64. All things being equal, I will be 64 years old that year.
And I realised as I used that phrase in my head: "all things being equal…" that that is really the crux of the matter. We believe, for some reason, perhaps evolutionary, that we can predict the future based on all things being as they are now. Many smarter people than I have said this before: the future is not an extrapolation of the past. And yet we continue to behave as if it is. We continue to create 10 year business visions. We continue to ask "Where do you see yourself in 5 years" in interviews. We continue to build 18 month brand plans. And we continue to anticipate how our weekends will turn out, and then wonder why things didn't go as intended when we look back on them.
Is it simply that our capacity to see, to discern what is happening right now is so poor that there is no way we could ever know what was coming on it's heels?
Or is it that there are so many random, unpredictable impacts on every single second of our lives that it would be impossible for anyone to be able to compute the variables and predict an outcome? Perhaps quantum computing will get us there, but will that help?
I have no idea who I will be when I am 64, or even if I will remember that once, when I was almost 42, I wondered about it.
But I do think that despite everything I've said, it's still a good idea to plan ahead. Crazy, perhaps, but where would we be if we couldn't conceptualise of a time ahead of us and think through what we might need to do then. I think the truth of it is that we need to imagine our futures so that we make better decisions today, but we also need to remember that those futures were never real, and learn to graciously let go of them in order to really see the totally surprising, unexpected, sad, beautiful tomorrows that do come our way, whatever climates and ages they bring with them.