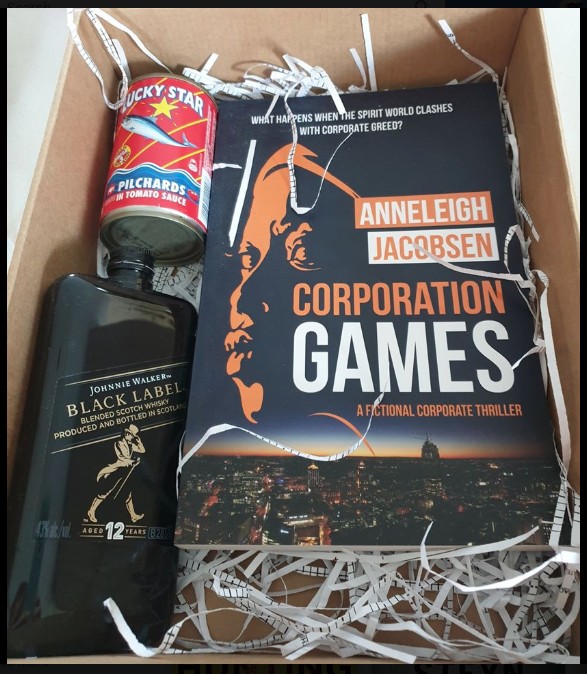 In December my book was reviewed by an astute reader on the Good Book Appreciation Society Facebook page. Though it's easy to join the group, you may prefer to simply read Charmaine Lines review here which I think was very on point.
"I won Corporation Games in a GBAS giveaway and, as some o you might recall, it arrived intriguingly package with a tin of pilchards and drop of Johnny Walker.
The short review is that I enjoyed the book, and finished it in two sittings. It's as easy read that moves along swiftly, an impression aided by the short chapters.
The main character is Georgie, a brand manager at a successful agency in Joburg. She manages a multicultural team of people, is clearly good at her job and has a fling with her boss.
Also working at the agency is Sindy and Kensingto, she a woman from KZN, he a man from Zim. Both of them see the shadows that are gathering in the agency building. They know to be tokoloshes, but they don't know what they want.
Sindi does home to consult with her elders. while Georgie tries to find out what lies behind the consumer-unfriendly decisions being taken by her superiors.
What I liked:
A clever and original look at cultural differences in SA (and not between corporate co-workers as is so often the case), and a critique of corporate greed.
Sharp, slick writing, and characters I could like.
Sindi's family members in rural KZN are very well drawn 9although I did wonder whether Zulu readers would find them authentic).
What I didn't like:
Too much detail about the mechanics of brand management.
Execution does not ultimately do justice to the story idea. I thought Jacobsen could have added far more cultural nuances to the agency setup. And the spirit world does not really clash with corporate greed (as the blurb promises).
The ending depends on a character I felt was introduced far too late, and it comes too easy. The potential for real suspense is created, but then sadly not explored.
Conclusion
I love that Anneleigh Jacobsen wrote an unusual South African story, and while she missed a few opportunities to write a great book, she did write a good and interesting one.
Oh, and as for the packaging, the pilchards and the whiskey represent the people done in by corporate greed and those who commit it. respectively.